Better late than not at all...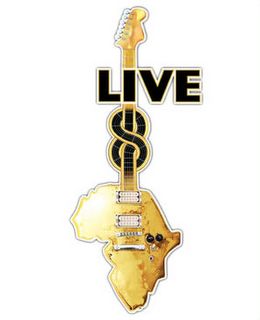 The
Live8
concerts covered some pretty impressive ground with co-ordinating 9 concerts around the world;
UK - Hyde Park, London
France - Palais de Versailless, Paris
Germany – Siegessäule, Berlin
Italy – Circus Maximus, Rome
USA – Museum of Art, Philadelphia
Canada – Park Place, Barrie
Japan – Makuhari Messe, Tokyo
South Africa – Mary Fitzgerald Square, Newtown, Johannesburg &
The Russian Federation - Red Square, Moscow
Unfortunatly I only managed to catch the closing hour or so of the concerts early Sunday morning via the web casts, after hearing a TXT from Serge, my younger brother who has been camped out in London for the past 2 years, at approx 7am last Sunday (02/07/2005) with what seemed to be a very excited message after reading about an hour later...
Steph! Wake Up! Turn the TV on.. Pink Floyd are back together for the Live 8 concert and will be performing!
Much to my dismay, the phone was down stairs, and I slept through the performance! Luckilly
Channel 9
in their infinite wisdom, even though last weekend was 12hrs after the concerts finnished and advertising that they were "live live", showed a reprisal of last weekend's concerts this evening and managed to catch
Pink Floyd
playing one of their all time classics, "Comfortably Numb" from "The Wall" album.
What was more amazing about their performance, was that the entire band was back together for Live 8, and when I saw them all together, it definitely brought a tear to my eye, I don't think that Roger Waters has played with the band for at least 20+ years, and was amazing to watch them play, it was just purely amazing!
Just a "thankyou" to Bob for asking Pink Floyd to perform at Live8! Serge & I are huge fans of Pink Floyd, and would probably donate an arm, leg or even an organ to see Pink Floyd perform live again!
Thankfully, I managed to find a copy of their performance online and after listening, I want more!
For the record, they performed;
01 . Breathe - Dark Side of the Moon
02. Money - Dark Side of the Moon
03. Wish you were here - Wish you were here
04. Comfortably Numb - The Wall